Why do projects continue to fail – and what can we do about it?
Posted by on Nov 3, 2022 in PMChat Bloggers, Uncategorized | Comments Off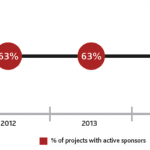 You are probably as familiar with the statistics of failing projects as I am. A study by The Economist and the PMI shows that only 56% of strategic initiatives are successful whereas according to other studies the success rate is far lower depending on sector. The House of Commons in the UK for instance have reported that only one third of major government projects are delivered to time and budget. Projects fail because of unclear scope and success criteria, lack of strategic alignment, lack of change management skills, underestimation, inadequate risk management, and lack of buy-in and engagement from project sponsors. Shockingly, PMI's Pulse report shows that despite it being a top driver of project success, fewer than two in three projects have actively engaged sponsors. That's alarming! I wonder how the situation might be improved if project managers had better relationship-building and influencing skills. The report also shows that organizations are losing an average of $109 million for every $1billion spent on projects due to lack of focus on people, processes and outcomes. And that is in spite of more tools and techniques being available that help us keep track of the many moving parts of a project.
Continued here:
Why do projects continue to fail – and what can we do about it?
<script type="text/javascript"><!– google_ad_client = "ca-pub-8334046383696150"; /* PMChat Header */ google_ad_slot = "8203916761"; //–> </script> <script type="text/javascript" src="http://pagead2.googlesyndication.com/pagead/show_ads.js"> </script>