Who determines the PMO's value?
Posted by lward on May 30, 2022 in PMChat Bloggers, Uncategorized | Comments Off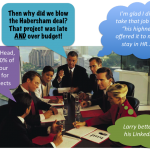 It is clear from my work in the area of PMO startup and development that there are three key stakeholder groups that determine the PMO's value. They are the─ Executive(s) under whose organization the PMO function and responsibility reside Project and program managers who either directly report to the PMO or who are heavily influenced by it Clients (internal or external) who are serviced by the project and program managers who deliver the new product or service resulting from their effort What does each group value? The key question each PMO Head has to answer is "what do each of these groups value?" In other words, what are they looking for from the PMO to facilitate their work and provide contributions to the organization?  In my experience, PMO Heads often fail to answer this question either because they think they know what each group needs, or, they assume that all key stakeholder groups' needs are the same. In fact, this is not the case. The needs of the executive are entirely different from those of the project and program managers; in fact, the executive's perspective is actually more aligned with those of the clients than with the project and program managers whose view tends to be somewhat more focused on the work effort itself rather than broad organizational goals and outcomes.  Thus, this difference of perspective is where we can look to gain helpful insight into ways that the PMO Head can boost not only his or her own value in the organization, but the PMO's as well. In fact, the two are generally considered inseparable. Which group is the most important
See the original post:
Who determines the PMO's value?
<script type="text/javascript"><!– google_ad_client = "ca-pub-8334046383696150"; /* PMChat Header */ google_ad_slot = "8203916761"; //–> </script> <script type="text/javascript" src="http://pagead2.googlesyndication.com/pagead/show_ads.js"> </script>