Want to be a good Project Sponsor? Show up!
Posted by lward on Dec 2, 2021 in PMChat Bloggers, Uncategorized | Comments Off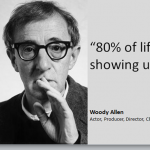 Woody Allen (actor, producer, director, clarinetist), one of the funniest guys around (in my humble opinion), is quoted as saying "80% of life is showing up." The meaning is quite simple, if you want to be seen as being involved, trustworthy, and reliable show up where you supposed to, when you're supposed to. (Of course, one could argue he showed up in the wrong place as regards his adopted daughter, but that's another story). But where should you show up? Here's a short list. You should show up: At weekly meetings with the Project Manager to make sure things are going along as planned When the team goes out bowling to blow off some steam During critical stage gate reviews When issues cannot be resolved by the Project Manager and she escalates them to you for help To talk to your peers to help the Project Manager recruit for badly needed resources When the Portfolio Committee meets to make sure the project remains high on their list of priorities To adjudicate a dispute between the project team and a vendor when contract disagreements threaten to derail progress At any place, at any time, the Project Manager asks you to While just showing up doesn't mean everything will work out fine, it's the first step in making sure it does. After all, a Project Sponsor who has "gone missing" is as useless as an umbrella in a Category 5 Hurricane . It's just too bad we have more than our fair share of these folks.
View post:
Want to be a good Project Sponsor? Show up!
<script type="text/javascript"><!– google_ad_client = "ca-pub-8334046383696150"; /* PMChat Header */ google_ad_slot = "8203916761"; //–> </script> <script type="text/javascript" src="http://pagead2.googlesyndication.com/pagead/show_ads.js"> </script>