Do you have the courage to face up to your project?
Posted by on Jul 1, 2022 in PMChat Bloggers, Uncategorized | Comments Off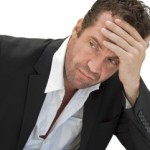 We all know that managing a project can be emotionally draining. On a bad day we spend most of our time resolving issues, mitigating risks and dealing with conflict. This can be draining because the stakes are high and because we want to do our best to protect the schedule. After all, our job is to remove blockages and fix problems so that the project can be delivered without delays. But might there be another reason why we'd want to find a solution to a risk or an issue? Image courtesy of FreeDigitalPhotos.net Could it be, for instance, that we subconsciously find conflict, uncertainty and question marks so uncomfortable that we intuitively want to move away from them? Could it be that we hurry to find a 'quick fix' simple because we want to get away from an emotionally difficult situation
View the original here:
Do you have the courage to face up to your project?
<script type="text/javascript"><!– google_ad_client = "ca-pub-8334046383696150"; /* PMChat Header */ google_ad_slot = "8203916761"; //–> </script> <script type="text/javascript" src="http://pagead2.googlesyndication.com/pagead/show_ads.js"> </script>