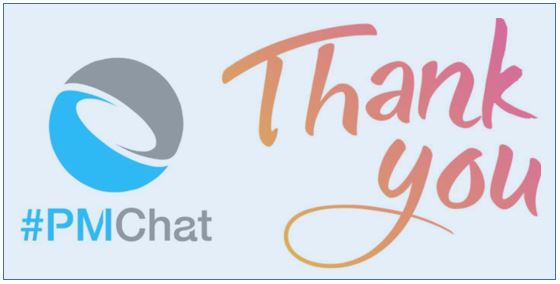 #PMchat Thank-You and Good-Bye
This is my third attempt at writing something compelling about my time with #PMchat and have yet to really hit the mark. I don't this does it either, but it has been delayed long enough.
The past six years have been a labor of love…scheduling guest speakers, maintaining the website, coordinating guests, and trying numerous methods for the community to engage such as podcasts, mobile apps, and other social media channels. The work aside, I feel a responsibility to say something grand and thank everyone that has supported us through the years. My co-founder, Rob Prinzo, and our early supporters (Naomi Caietti, Hala Saleh, Michael Greer, Vicki James, and the team at Workfront) really grabbed a hold of this idea, pushed it forward, and helped craft what #PMchat became. Through the years, we had waves of supporters that became tremendous evangelists of the community and I simply could not list them all. To all of you….Thank you! Thank You!
While this is a #PMchat good-bye for me, our website, and the Friday sessions, the same #PMchat community that was recognized in HuffPost, Inc., and several other publications, #PMchat will continue on! Tony Adams, who has been the #PMchat Ambassador for APAC, will take the reins and host a #PMchat TweetUp every Tuesday at 1500 PT, 1800 ET, 2300 GM or Wednesday at 800 AEST, 1000 NZST. I encourage you all to continue engaging this wonderful community and connect with Tony for guest hosting opportunities.
I will drop in from time to time and look forward to continued engagement with you all. Please connect with me on Twitter and/or LinkedIn and look out for some of my upcoming blog posts. I will copy and paste the Top 3 #PMchat blog posts over there, in the coming days, as pmchat.net will be shutdown in the coming weeks.
#PMchat has never been about Rob Prinzo or I and we know that you will keep it going. There is much to discuss and learn from one another. We have seen amazing partnerships develop into conference appearances, career opportunities, book collaborations, and more. Keep it up!
Best Wishes and Prayers for continued success!
Robert Kelly