California Launches New Framework for Tech Projects | statescoop
California last week released the first version of its Project Management Framework, designed to shepherd the state's tech projects from idea to implementation.
The framework, developed by the state Department of Technology's Project Management Office, lays out guidance for every stage of a project and offers a selection of tools, templates and other resources that officials can use — like sample plans and checklists. It aims to help project managers with any level of experience launch a tech project while avoiding cost overruns or delays.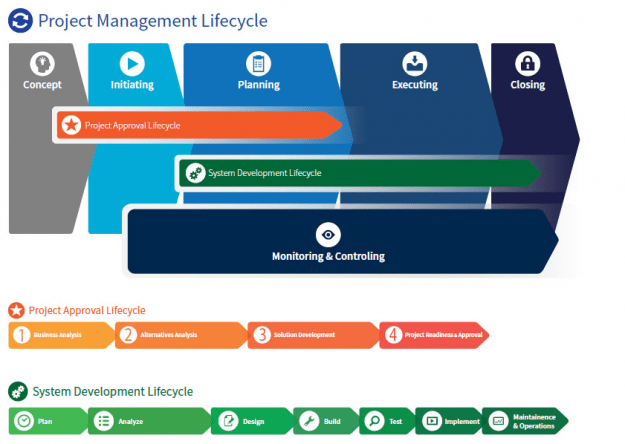 The Project Management Lifecycle (California Project Management Office)
The Project Management Lifecycle, or PML, is split into five stages — concept, initiating, planning, executing and closing. It builds on the Project Approval Lifecycle, or PAL, which former Chief Information Officer Carlos Ramos started rolling out in late 2014 to guide IT projects through the concept, initiating and planning portions of the overarching project. In addition to the steps in the PAL, the PML also includes a "system development lifecycle," which helps officials determine how to continue to develop projects after they launch.
While the new PML was designed with a focus on information technology, it could be used for other types of large-scale projects, according to the framework's page on the Department of Technology website.
The framework replaces the state's previous project management guidance included in the California Project Management Methodology.
Contact the reporter who wrote this story at [email protected] and follow him on Twitter @JakeWilliamsDC.
Source: California Launches New Framework for Tech Projects | statescoop
Please follow, like, and share: